Untitled
Benjamin Pierce -
April 2016
April 1

-

30, 2016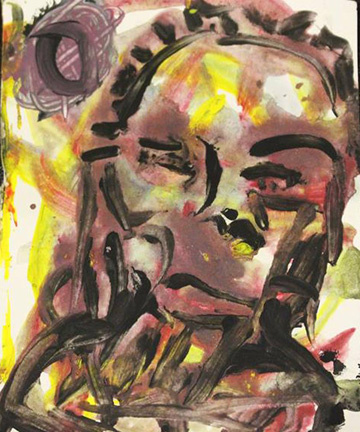 Bio and Artists Statement: My name is Benjamin pierce. I have resided in Madison since 1989 off and on, in two different housing co-ops: le Chateau and, more recently, Nottingham. This suite of smaller pieces were composed, on the whole, between 2012-2015, though I have been working with tempera paint since 1994 and with chalk since 2010. Both these media allow, at times for surprisingly fast resolution of the initial impulse or will to make an image.
The smaller size of the pieces, potentially, also contributes to the possibility of making several finished images in one sitting - yet equally, there is the challenge to make the most of the space, the most of a few images, and to make the best use of a intimate contact between foreground and background - in certain cases, with the foreground all but excluded a background - to make that background as meaningful and as much an object of contemplation in its' own right as can be done - above all, the combination of these quick-dry media and this small space challenges me to to be sure that I am really done. Many of these were done in sessions were five or even eight images were done in the space of an evening or afternoon - a few demanded that I put them aside until a critical last wedge or edge or top find its way in.
Most of these feature heads-portraits. The face has been the main landscape I have been interested in...and I have nothing more illuminating to say than that.....