Wednesday we will be serving Miso w Tofu and Carrots, & "Bacon" Bean Soup. #Vegan #Soup
Upcoming Events
Saturday, May 26, 2018
That could be you in the corner... or in the spotlight! Playing your music, comedy, poetry, etc. For ten minutes on a Saturday night, the mic could be yours.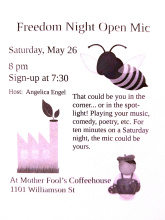 Friday, June 1, 2018
Martha Jackson Kaplan is a Pushcart nominated poet who writes from a love of words and a curiosity about how they speak to us of history, sense of place, and the personal. What do we see?
Friday, June 22, 2018
Newly emerged from the cornrows and the shambledown haybarns of Rurl Amerca cums the offbeat country n' blewgrass mutants of BEEFGRASS.